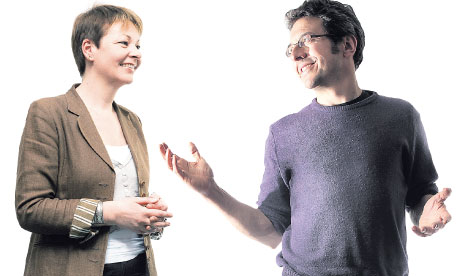 Caroline Lucas and George Monbiot debate nuclear power and renewable energy.
That Guardian photo exemplifies the Monbiot accommodative tactic.
This week George Monbiot wrote that the Fukoshima disaster had won him over to nuclear power. Green MP Caroline Lucas believes the technology is costly and dangerous. Susanna Rustin brought them together, and heard the arguments.

(…)
I thought George let Lucas off much too easily. E.g., countering her "creating waste that will be radioactive for tens of thousands of years" with "Climate change is far more dangerous than any of the issues we're talking about…" Lucas is obviously a skilled politico.
Doesn't that concede the point that more nuclear power means more "highly dangerous radioactive scary waste?"